Google Pay Latest APK Download: Now it will show "Nearby Stores" in India
Google Pay got a new update with a new handy feature to find your nearby stores that allow Google Pay payment option. In this blog know everything about Google Pay the latest update and new features. Also, download the latest Google Pay APK update.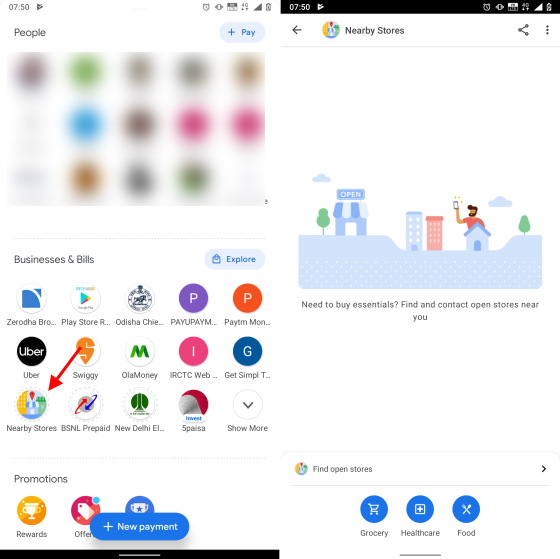 As COVID 19 effects a lot to the daily routine, Google Pay comes with new features to make your daily payment simpler. Google added a new "Nearby Stores" feature which will let you find the essential goods near you with the Google Pay payment option.
Google added these features for more than 35 cities across India.
List of cities that have Nearby Stores Features in Google Pay
New Delhi
Gurugram
Faridabad
Mumbai
Nagpur
Navi Mumbai
Pimpri-Chinchwad
Bengaluru
Mysuru
Varanasi
Lucknow
Ghaziabad
Prayag Raj
Kanpur
Noida
Greater Noida
Patna
Hyderabad
Ranga Reddy
Secunderabad
Chennai
Surat
Ahmedabad
Visakhapatnam
Indore
Ludhiana
Sahibzada Ajit Singh Nagar
Chandigarh
Bhubaneswar
Kolkata
Thiruvananthapuram
Kochi
Ernakulam
Google claimed that every business listed within the app should accept payment via Google Pay.
Nearby Stores features collect all the information from the listed business and share precise information.
One more feature company introduced for the business owners. Store owners can now indicate their working hours and they support home delivery or not.
We observed that some stores even declare that you can queue at the store, alongside the directions and contact number.
And Google also added product filter option in this update. You can be sure about the product you want to buy is available on that store or not before you go out. Business owners need to list all of the essential goods they have in stock on Google Play, to show the above information.
Go through the below link to download Google Pay v59.0 APKtoday