Google camera's most advance and recent feature is now available to get in any Android device. Yes, you don't need to have Pixel to get GCam Mod in your phone. This blog has Google Camera 7.0 mods APK which you can install in the majority of Android devices. Check out our full tutorial on how to install the APK and enable Astrophotography mode in any Android phone.
Here is the list of compatible devices:
Poco F1
Redmi K20 / K20 Pro, OnePlus Devices
Redmi Note 5 Pro / 6 Pro / 7 / 7S / 7 Pro, Mi A3 / A2, Zenfone Max Pro M1 / M2
Realme Devices .
APK file download link you can find at the end of the post.
Some recent features added by Google in Google Camera:
Social share
Framing hints
level indicator
Note : Above recent features working with Alpha build Click here to download.
Things to keep in mind to get Google Camera or Things you required
How to check your phone capabilities here : Download the Camera2 API Probe (Free) and run to check compability.
Your phone should be on Android 10
As the APK file is configured for top devices so, some features might work on one device and may not work on the other.
How to Install Google Camera 7.0 on Any Android Device
1. Click below link to Download Google Camera 7.0 APK which is compatible with your device and run it.




Download Google Camera 7.0 APK : POCO – Download | Redmi – Download | Redmi Note – Download | RealMe – Download
2. Allow third party install app : Tap on "Allow" and proceed with the installation.
3. You're Done, You have successfully installed Google Camera app in your phone.
Once you installed the app successfully, find how to enable "Astrophotography" mode.
1. To enable it manually, Go to the "Settings Menu» About
Note : Astrophotography mode is not compatible for all device so it might not work on some devices.
2. Now open Advanced Settings mode and then search for "cuttle" and turn on it like below.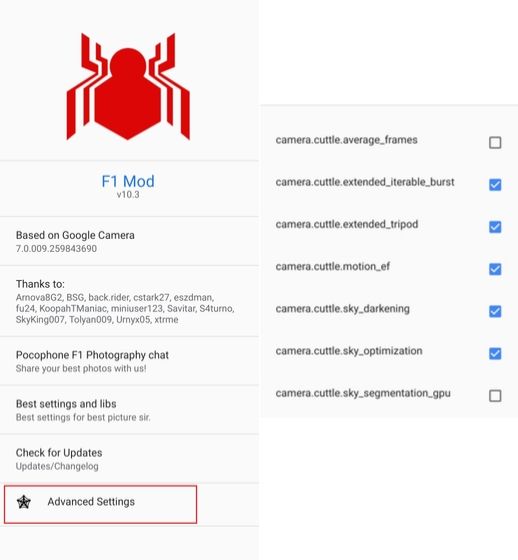 3. You're done! Once you turn on the Night Sight mode, it will prompt you to activate the astrophotography mode.
Now, start taking stunning photos of yours with the new Google Camera 7.0 Mod today.
Check out this article also: