Redmi has finally launched Power banks with fast charging support along with Redmi 8A Dual in India. Redmi has launched two variants of the new power banks with 10,000 mAh and 20,000 mAh capacity at affordable prices.
Redmi Power Bank Specification and Features
The Redmi launched with two different color options Black and White you can choose your preferred color for this product if you are planning to buy it. Now let's talk about its design, power bank got a stylish looking design which crafted using high-quality material and for better grip in hand, it comes with anti-slip edge texture which offers an excellent hand feel and prevents accidental slips.
The Redmi power banks come with dual input and dual output ports where you get micro USB port and USB Type-C port for input (to charge power bank) and two standard USB Type-A ports for output (to charge devices from power bank).
The 10,000 mAh power bank supports 10W fast charging and the 20,000 mAh power bank supports 18W fast charging. The input parameters for 10,000 mAh power bank is 5V/2.1A (10W) and the output parameters is 5.1V/2.4A(10W) for Single-port and 5.1V/2.6A(10W) for Dual-port whereas input parameters for 20,000 mAh power bank is 9V/ 2.1A, 12V/ 1.5A and the output parameters is 5.1V/ 2.4A, 5.1V/3.6A, 9V/ 2A, 12V/ 1.5A.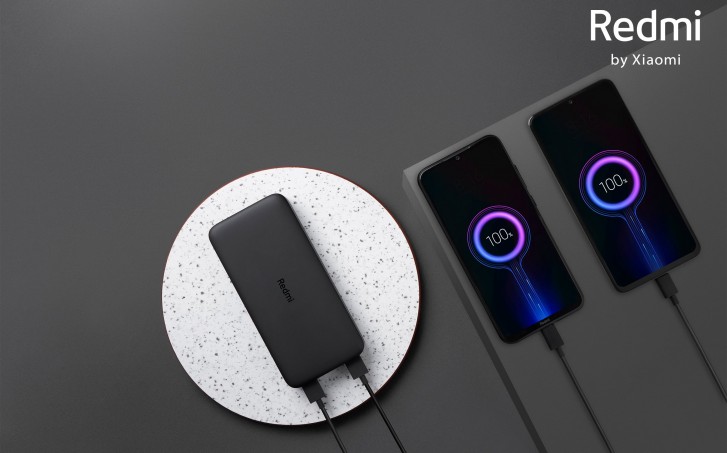 Redmi power bank also supports Low-power charging mode where you can charge your low power devices such as Fitness bands and Bluetooth headsets. To use this feature, you need merely double press the power button and ready to use it. Redmi power bank comes with 12 layers of Advanced chip protection.
Now Let's talk about Price and Availability:
The 10,000mAh power bank priced at Rs.799 and 20,000mAh power bank priced at Rs.1499 and both these power bank go on sale from February 18.